10 May

Three Phase Line Construction earns Ameren 'Eagle Award' for exceptional safety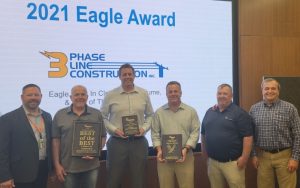 Bloomington, Ill. – May 9, 2022 – At Ameren's St. Louis headquarters, Three Phase Line Construction was presented today with Ameren's prestigious "Eagle Award" for the contractor's exceptional performance across the utility's service territory during 2021.
"The Eagle Award is the highest award of its kind for safety that any contractor – not just an electrical firm – can win from Ameren; we were the only electrical contractor to receive one this year," said Eric Burkey, Midwest Director of Operations for Three Phase Line Construction. "Joey Hamlin, our Midwest Electric Construction Supervisor and a former lineman, and Safety Coordinator Mike Cherry, who served as a fire chief before joining us two years ago, are persistent and passionate about creating and living a safety culture, and making our team stand out."
Three Phase Line Construction won the Eagle Award, along with a 2021 "Best in Class" award and 2021 "Best of the Best" award, based on scores it received from Ameren for an array of activities including its ability to:
prevent injuries, dig-ins and lost time;
maintain or exceed customer expectations;
avoid property damage and motor vehicle incidents;
participate in safety briefings, and
meet transmission outage timetables.
This is the second year in a row that Three Phase Line Construction earned Ameren's Best in Class award, which recognizes contractors for outstanding safety, performance, leadership, and commitment. Ameren presents its Best of the Best award to contractors who earn the highest total points among their peers.
To determine its award winners, Ameren analyzed on-the-job statistics and documentation for safety meetings as well as auditing contractors' records. By scoring 95 percent across all categories, Three Phase Line Construction, which is a subsidiary of MasTec, earned the Eagle Award for 2021.
"Winning even one of these awards is remarkable, and we applaud Three Phase Line Construction for achieving and maintaining the standards of safety and professionalism that make them a trusted Ameren partner," said Frank Niemerg, director of Transmission Construction Services for Ameren Services. "Everyone, from groundmen to supervisors and safety personnel to office workers, contributes to making a workplace safe; Three Phase Line Construction demonstrated that commitment to our highest standards in 2021."