26 Mar

Being 'growth-minded' helped Katie Luttrell make a switch from restaurants to the utility industry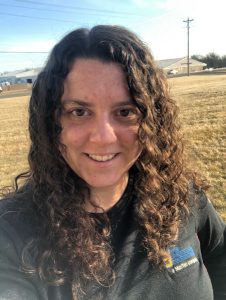 While Katie Luttrell isn't setting poles or handling glove-and-sleeve work for Three Phase Line Construction, she does make it possible for the firm's T&D crews to do their job. Luttrell joined Three Phase Line Construction's Bloomington, Ill., office in September 2018 and quickly moved from an office administration role to project assistant.
"My background was in restaurant management," says Luttrell. "And Three Phase hired me to handle data entry and payroll . . . that's where it started."
According to Luttrell, Three Phase Line Construction's operations were growing. Whatever came her way in the way of work, she said yes and asked for more. From there, Luttrell began asking her supervisor, Joseph Hamlin, a construction superintendent for the company, what else she could learn.
"Joey relied on me," adds Luttrell. "And I started taking care of billing, invoicing, helping new-hires and setting up job sites."
Luttrell's work often starts before crews begin a job, and she keeps working even after crews have moved to the next project.  She orchestrates what's needed to set up and teardown a job site (e.g., trailers, dumpsters, etc.) and ensures the bills accurately go out once crews have wrapped up the project. In between, she occasionally serves as a diplomat when the public calls.
"Our crews were pulling a transmission line, and a homeowner called to complain that once installed it would affect the view from the 'dreamhouse' he had built himself," recalls Luttrell. "He was upset, but I knew the rules behind why the line was at the height it was and explained."
Some of the things Luttrell says she enjoys about working for Three Phase Line Construction is:  learning about the power industry, having supportive coworkers and the work-life balance, especially important since she's a single mother.
As for people considering a switch to the utility industry, she says, "If you have a growth mindset, the skills you've developed from other fields can translate.
She adds, "Say, 'yes,' a lot, and opportunities happen."