02 Dec

A chance meeting sparked a utility industry career for Christina Magoon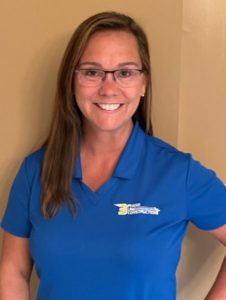 Before joining Three Phase Line Construction, Christina Magoon had worked for an entrepreneur with several businesses including a commercial and residential construction firm. Magoon has a strong work ethic and describes herself as having thick skin and not being easily offended. Working in male-dominated fields, she says, hasn't always been easy, but she has four brothers and knows how to advocate for herself.
"I had held a hybrid position for the gentleman who owned the construction firms, and I was his right hand for four years," recalls Magoon. "I was working up to 70 hours a week. But even though I had earned time off, when I wanted to attend my daughter's Christmas concert or take a day off to care for her when she was sick, I'd get flack."
Frustrated by the lack of fair play, ultimately, Magoon picked family over job. She gave her notice and quit, leaving her without a job for the first time in her adult life.
"Right after quitting, I visited a friend of mine who was bartending at a restaurant," Magoon said. "I got into a conversation with some executives from Three Phase Line who happened to be there and learned they were looking for help."
A week later, Magoon was interviewing at Three Phase Line Construction for an administrative position.
"All the heads of the department were at the table to interview me, which was a little intimidating, but I was hired on the spot and have been here for 11 years," remembers Magoon.
After serving as a proposal coordinator, payroll administrator, and office manager at Three Phase Line, the company's top executive asked Magoon about her goals and told her she "should be managing people not paper." He suggested she become a project manager. But Magoon said, at the time, it was unheard of for a contractor to have a female in that role. With his encouragement, she took on the role. Today, she's the senior director of operations for Three Phase Line Construction in the Northeastern United States.
"I really feel supported by MasTec and executives like Steve Gilkey and others who've given me a seat at the table and the resources I need," adds Magoon. "I'm made to feel I can try anything, and when I call, people at MasTec pick up the phone; they know what I call about is necessary."
Magoon says it hasn't always been easy outside MasTec. She recalls being cut off when speaking or going to a meeting where she would bring a male project manager with her as part of the team, and the person leading the meeting automatically assumed the male project manager was in charge.
"The culture beyond MasTec is changing," said Magoon. "People are making less assumptions."
According to Magoon, there's no typical day as senior director of operations. She could, for instance, head to the field to visit crews on a job site. Or she could get on a plane to Houston for a management conference, review a bid with the estimating team, or meet potential subcontractors. When asked what advice she would give younger women who might not know to consider a job in the utility industry, she says they should ask themselves, "Why not try it?" Magoon admits that believing you can do anything is an adage. But she says the world is opening up, and women are proving they're capable.
"I love what I do," Magoon added. "I like project-related work and seeing the hard work of the people around me creating something—it's a sense of accomplishment."